05/16/2022
|
People
|
Hansgrohe Group
130,000 Square Meter Property; 85 Million EUR Investment, up to 1,000 New Jobs
From College Student to Factory Construction Project Manager: Moritz Allgaier-Burri Oversees Planning of New Faucet Factory for Hansgrohe SE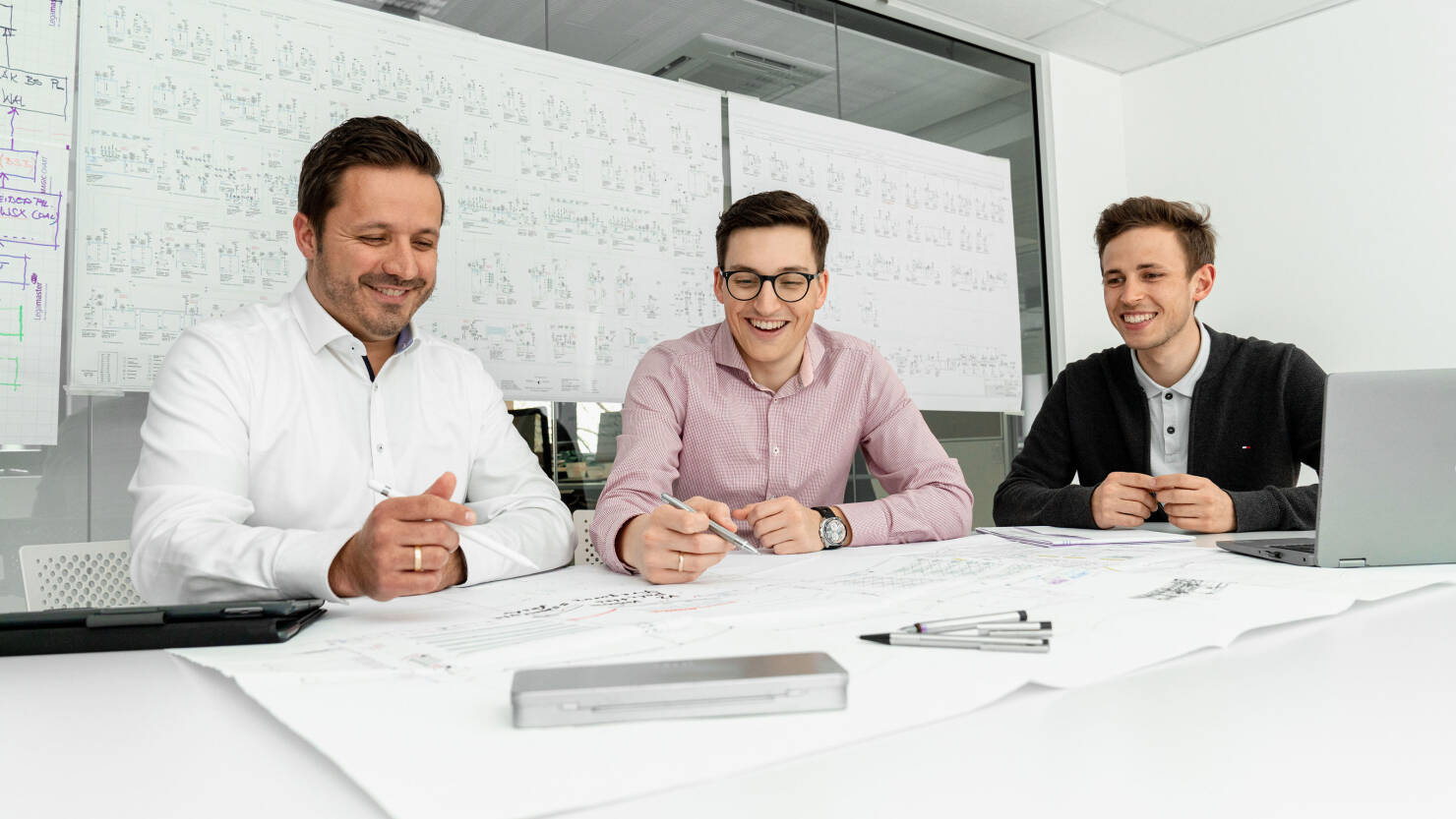 Schiltach, May 2022. "We're building a factory" perhaps this is what Moritz Allgaier-Burri simulated with his Lego bricks as a five-year-old. "Technology has always interested me. I wanted to know how things worked, and Lego technology excited me from an early age," says the now 27-year-old. Determined, he started his studies at the Cooperative State University in Karlsruhe in 2013 directly after graduating from high school. The Black Forest native chose Hansgrohe SE, an internationally active manufacturer of faucets and showers as his training company. During the three-year course, he studied mechanical engineering with a focus on design and development. During the practical phases, he worked at Hansgrohe's Offenburg and Schiltach sites. His three-month semester abroad took him to the Hansgrohe factory in Shanghai.
Why the Black Forest?
"With Hansgrohe, I particularly liked the connection to the products. These are well-known and are used several times a day," explains Allgaier-Burri, "Design and technology go hand in hand perfectly. It was clear from the start that I would apply there." In the end, the decision was made quickly on both sides. "At the time, Moritz made our commitment to an apprenticeship very easy," says Clarissa Lehmann, Head of Training and University Marketing at Hansgrohe. "He seemed very determined, was very reliable during his studies and always open to new things." So, he also continued his professional activity at Hansgrohe as a Trainee Global Technical Investment & Automation immediately after his studies in 2016. While working, he completed a Master of Business Administration at the ESB Business School in Reutlingen from 2019 to 2021.
Be Satisfied, But Do Not Settle
This is the motto Moritz Allgaier-Burri uses to shape his everyday life and his career. "My technical background helps me to analyze problems and tackle the challenges," explains the Industrial Engineering Project Manager. His tasks to date have been very diverse: "Area management and layout planning for the national and international Hansgrohe factories" or "Relocation projects of automated assembly areas". He is also responsible for investment planning and project planning of machinery and equipment for the Hansgrohe plant in Songjiang (near Shanghai). "The broad and project-related range of tasks in industrial engineering was more or less the basis and lead to my current project," says the 27-year-old. His current assignment is a milestone in the history of Hansgrohe, but probably also in Allgaier-Burri's resume. Since July 2021, he has been project manager for the planned Hansgrohe factory in Valjevo (Serbia). About 100 kilometers south of the Serbian capital, a new faucet production facility is to be built at a cost of 85 million euros, creating up to 1,000 new jobs.
Facilitator and Motivator
"You don't get an opportunity like this every day," confirms Allgaier-Burri, but one thing is very clear to him, "nothing works here without a dedicated team." Currently, the core team for factory planning comprises 15 people. The project is in turn divided into several smaller projects. Meanwhile, more than 50 heads are part of the entire team, which will certainly continue to grow. "Together, we are facing an extraordinary task. My role is to pull the strings, define goals and thus set the project's guardrails." Moritz Allgaier defines his main tasks as keeping an eye on time, costs and quality, motivating the teams and convincing them in terms of arguments, because his colleagues do not report to him in disciplinary terms. But he is very confident: "What has impressed me most at Hansgrohe so far is the fair and trusting way we deal with each other, from trainees to the board of directors. The doors to all levels are always open and I can exchange ideas at any time with my manager, our Head of Industrial Engineering, who is also the Managing Director of our new Serbian subsidiary, as well as Executive Board Members and Vice Presidents. On the one hand, I have enormous freedom to shape and decide many things. On the other hand, I never feel left alone. The close exchange here is important to find the right balance between freedom and support."
No Pain, No Gain
For all young talents who don't just want to play with Lego bricks but want to make a difference in their lives, Moritz Allgaier-Burri has a well-known piece of advice: "Try out new things so that you ultimately know what you want and can do. If you show commitment and work with discipline, many doors will open - at least that's always been the case for me at Hansgrohe so far." About the Hansgrohe Group – Setting the Beat of Water. Since 1901. With its brands AXOR and hansgrohe, the Hansgrohe Group, based in Schiltach/Southern Germany, enjoys a reputation as a leader in innovation, design and quality within the bath and kitchen industry. Founded in 1901 in the Black Forest, the company gives water form and function with its faucets, showerheads and shower systems. The 120-year history of the company is marked by innovations, such as the first hand-held shower with multiple spray types, the first pull-out kitchen faucet, and the first wall bar to hold a hand-held shower.The company holds more than 18,500 active property rights. The Hansgrohe Group stands for long-lasting quality products and for responsibility towards people and the environment. Sustainable production of resource-conserving products is central to the company's business activities around the globe. With 34 subsidiaries and 20 sales offices supplying products in 152 countries, the globally active company in the sanitary industry is a reliable partner to its customers in all regions of the world. The Hansgrohe Group, its brands and products have won numerous awards, including more than 700 design prizes since 1974. The products of the Hansgrohe Group are found worldwide: on renowned cruise ships, in luxurious 5-star and boutique hotels, in international metropolitan cities, in extraordinary spas, exclusive bathrooms of lodges and luxury villas, public facilities, as well as in countless private homes. The Group's high quality standards are ensured by seven wholly-owned production facilities: four in Germany, one each in France, the United States and China. In 2021, the Hansgrohe Group generated a turnover of EUR 1.365 billion. It employs around 5,400 people worldwide, about 60 percent of whom work in Germany.
Contact

Anke Messerschmidt
Manager Corporate Communications