Hansgrohe Group
Business Report and Sales
In the latest Hansgrohe Group business report, we were able to report a new sales peak for the 2019 financial year. Here, you can find the most important facts and figures on our company's finances at a glance, and in detail in the latest business report. You can also learn more about our business strategy, as well as data and facts about the Hansgrohe Group worldwide.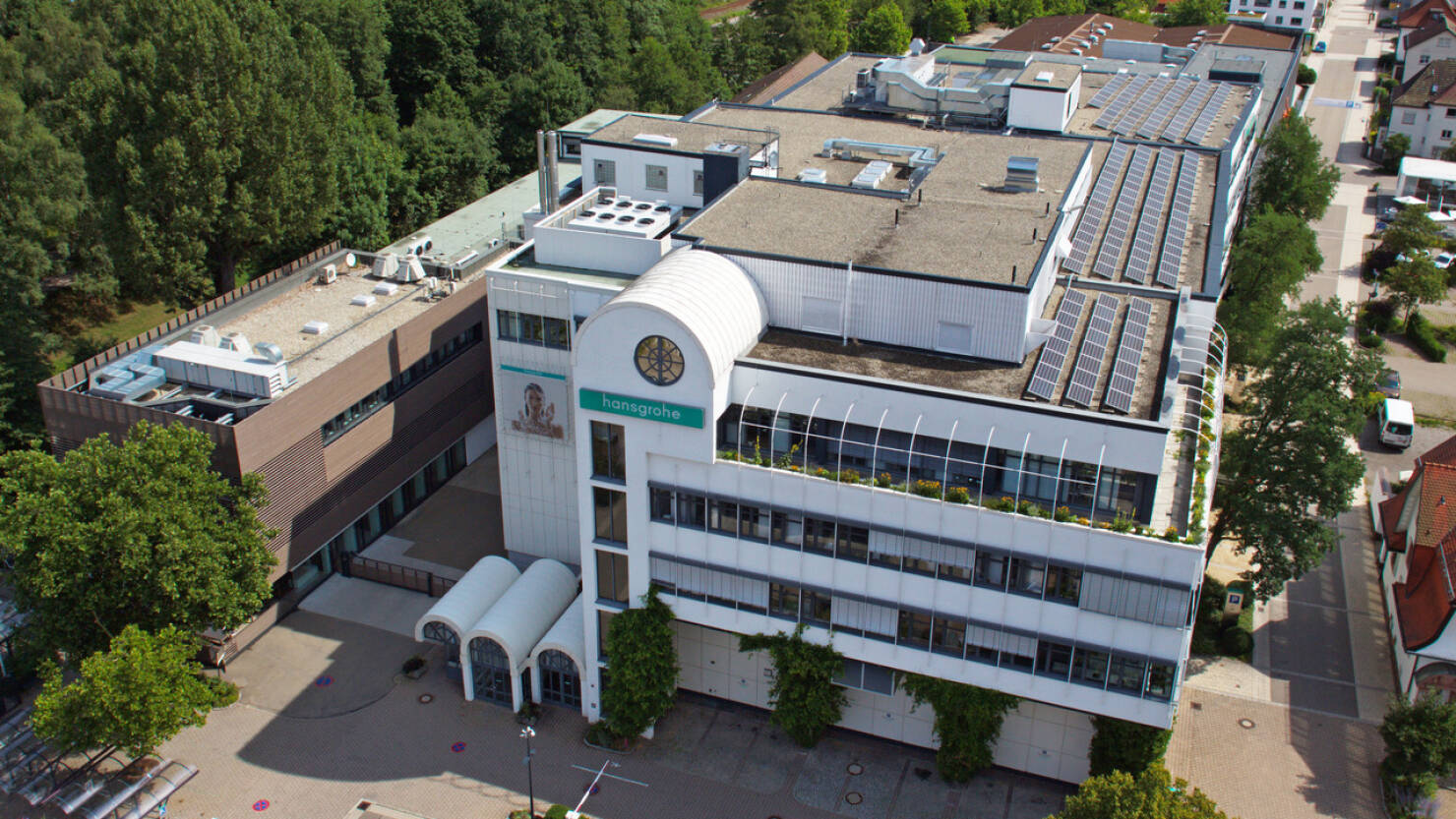 Turnover and other figures
The Hansgrohe Group closed the 2019 financial year with a new sales high. We generated total sales of EUR 1.088 billion. Compared to the previous year 2018, this exclusively organic growth represents an increase of around one percent.

EBITDA is at €213.5 million, which represents a slight decline of one percent compared to the previous year. The EBITDA margin remains unchanged at around 20 percent, proof of the Hansgrohe Group's profitable growth.

At the same time, we have significantly optimized our working capital, as a result of which operating cash flow increased by twelve percent to EUR 176.1 million.
Investments in the future
"For the tenth time in a row, Hansgrohe has achieved a new record in sales," says Hans Juergen Kalmbach, Chairman of the Board of Management of Hansgrohe SE. "With extensive investments in our future, for example in the new plastic electroplating facility at the Offenburg site or in digitalization, and despite a negative special effect from the reorganization of US distribution, we can look back on the second-best economic result in the history of our company. The commitment and creative power of all our employees worldwide was fundamental to this success. They deserve our special thanks, which I would also like to express on behalf of my colleagues on the Board of Management."

4,711 employees contributed to this new sales peak (2018: 4,687) worldwide. As of December 31, 2019, 2,964 of these employees worked in Germany (2018: 2,864) and 1,747 at the Hansgrohe Group's international locations (2018: 1,823).
Satisfactory growth
In 2019, a year with a weakened global economy, the Hansgrohe Group will again
generate around 77 percent of its sales outside Germany
. The globally active company supplies its fixtures and showers to more than 140 countries.
We continue to generate the largest share of its sales of around EUR 255 million in our home market. Compared to 2018,
sales in Germany grew by 3.6 percent.
This increase in sales is slightly above the average for German manufacturers of fixtures for buildings, who, according to the VDMA (German Engineering Federation), are reporting growth of
three percent in the German market
.
In
China
, our second most important market, we also report good growth of 7.3 percent for 2019. In the Asia-Pacific region, sales even increased by 14 percent. Europe showed stable development with growth of 2.1 percent. In contrast, the development in the regions of Turkey, Middle East, Africa and Russia, as well as in the USA, which had to record a one-off negative special effect due to the realignment of distribution, and thus a decline in sales of 17 percent overall, declined.
Innovation, digitalization, efficient processes - the cornerstones of sustainable success
In order to secure its success even in economically challenging times, we are making sustained investments in the expansion of our core business with innovative new products. At the ISH - the world's largest trade fair for the sanitary, heating and air-conditioning industries - in Frankfurt in March of 2019, we presented, for example,
hansgrohe RainTunes
, a completely
new and digitalized shower system
that has already received the German Design Award in Gold.
In addition to
focusing on customer requirements
and digitalization in sales, Hansgrohe wants to secure its future through more agile processes worldwide. In 2019, existing structures and processes were put to the test and readjusted to meet future challenges. With the goal of making business processes more efficient, the Hansgrohe Group also consistently adapted its structures to its corporate strategy. We reorganized our responsibilities and departments, and, in the process, also reduced the number of Board of Management departments from five to four.
Proof of the innovative strength of the now 119-year-old company is also the renewed award in 2019 as one of the most innovative companies in the German SME sector in the "Top 100" competition.
Investments in future technologies
At EUR 45 million, the Hansgrohe Group's capital expenditures were also at a high level in 2019. A large share went to the
new plastic electroplating facility
at the Offenburg plant, which successfully went into operation one and a half years after the foundation stone was laid in spring 2019. The large-scale plant with a total investment of 30 million Euros will more than double the capacity for the finishing of plastic products in its final stage of development.
​​​​​​​In order to be able to meet the steadily increasing demand for exclusive special surfaces, the company also invested heavily in PVD technology. We are also gearing up for the future in terms of process optimization and digitalization with continuously
increasing investments into IT.
Outlook
"In view of the Corona pandemic, reliable and serious forecasts are virtually impossible at the moment," says Chairman of the Board of Management Hans Juergen Kalmbach. "Our focus is on the health and safety of our employees, as well as on our customers and partners and their families around the world.

Only thereafter comes our task, as a commercial enterprise, to maintain normal operations wherever possible. We are making every effort to overcome the existing challenges together with our employees and market partners and remain confident that we will succeed in this task in the mid-term.

In the short-term, however, and this should be equally open and clear, we are all facing noticeable economic effects of the Corona pandemic. We must prepare ourselves for this. Our employees are showing enormous flexibility and solidarity in this situation and have so far used our customer-oriented working hours to achieve the necessary capacity adjustments.

Our owners are also actively supporting Hansgrohe. At the Annual General Meeting, for example, it was agreed that the dividend for the 2019 financial year will be retained on a pro-rata basis in order to be prepared for the effects of the Corona crisis. In conjunction with our already strong equity ratio, which now stands at around 59 percent, Hansgrohe is thus extremely well positioned.

​​​​​​​We can and will continue to invest in our future; for example, in the development of new products. At Hansgrohe, we have together set the course to emerge stronger from this crisis.
Download

All important key figures and information on the business development of the Hansgrohe Group in the 2019 financial year can be found in the current business report.