Phoenix Design and Hansgrohe
The Design Process as a Shared Journey of Discovery
Hansgrohe and Phoenix Design have been working together successfully for more than 30 years. A partnership that produced innovations such as the Raindance shower or the Select button. Jan Heisterhagen, Vice President of Product Management at Hansgrohe SE, and Andreas Diefenbach, Managing Partner of Phoenix Design, talk about their recipe for success, the future, and showering together.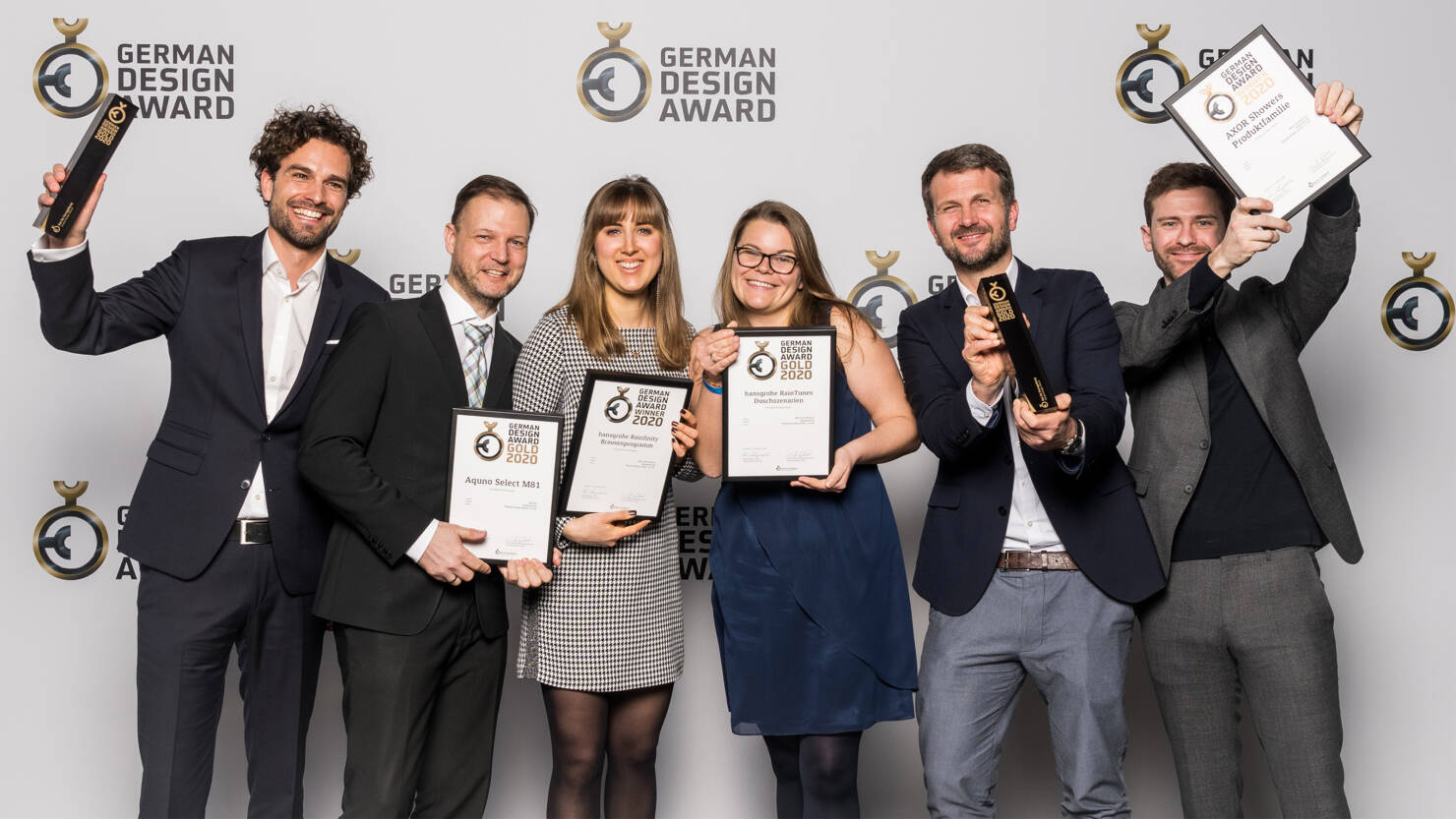 30 years of design partnership: Success factors, dreams of the future, and shower meetings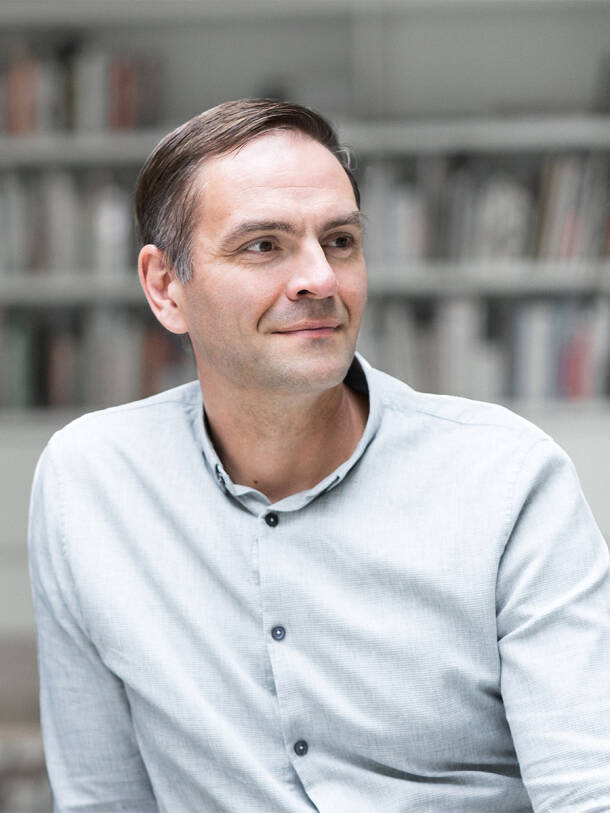 Meetings under the shower – that's more the rule than the exception for Jan Heisterhagen, Vice President of Product Management at Hansgrohe SE, and Andreas Diefenbach, Managing Partner of Phoenix Design. They don't do it because their meetings are so sweaty or because there are no conference rooms at the Black Forest faucet and shower specialist's headquarters. In fact, taking a shower is part of everyday working life at Hansgrohe: For Jan Heisterhagen and his team, for the product developers – and even for the design partners of the AXOR and hansgrohe brands. 
In an interview, Jan Heisterhagen and Andreas Diefenbach explain exactly what the shared shower is all about and why they define the design process as a journey of discovery. They talk about the success factors of their long-standing cooperation and take a look at their future together. 
Mr. Heisterhagen, you shower together with your team and your designers?
Jan Heisterhagen (JH): Yes, that's a very important part of the development process. But we shower not only to test the prototypes for their suitability, but also to get further inspiration. When we shower with our designers, instead of just turning 'dry' theories over in our minds in the meeting room, other discussions just come up. That's why showering is an important factor in our success. 
So it's about testing and brainstorming under the shower, Mr. Diefenbach?
Andreas Diefenbach (AD): Definitely! The constant of our success is our infatuation with the element of water. You can feel its vitality when showering, you're occupied with the facets and the culture of the subject matter, from the actual purification to the domestication of water in the home. From there we derive the design and, ultimately, the form and function of a product.
How should we picture this kind of meeting under the shower?
JH: On the one hand, it's a highly technical discussion about the functionalities of the product: Is it intuitive to operate? Does the arrangement of the control elements fit? There are several factors for which we practically test the products. On the other hand, we're interested in the customer experience when showering. It has a lot to do with how the water feels on the skin. It can be finely beaded, full, spraying, needly, soft, microscopically fine... and much more, of course. We take a close look at the drops, we add air to water – and what hits the skin changes. It's a major challenge. Because every person perceives this feeling differently. 
But you can't test the products on everyone....
JH: That is true, unfortunately. I would love to put all my customers in a shower and find out together with them. But because that's impossible, we put as many colleagues in the shower as possible on their behalf. And, of course, this includes us first and foremost. "Mr. Heisterhagen, you get paid for showering, not bathing!" was the first advice I received from Richard Grohe when I started as product manager (laughs). 
A source of pride and unity: Design award-winning product develop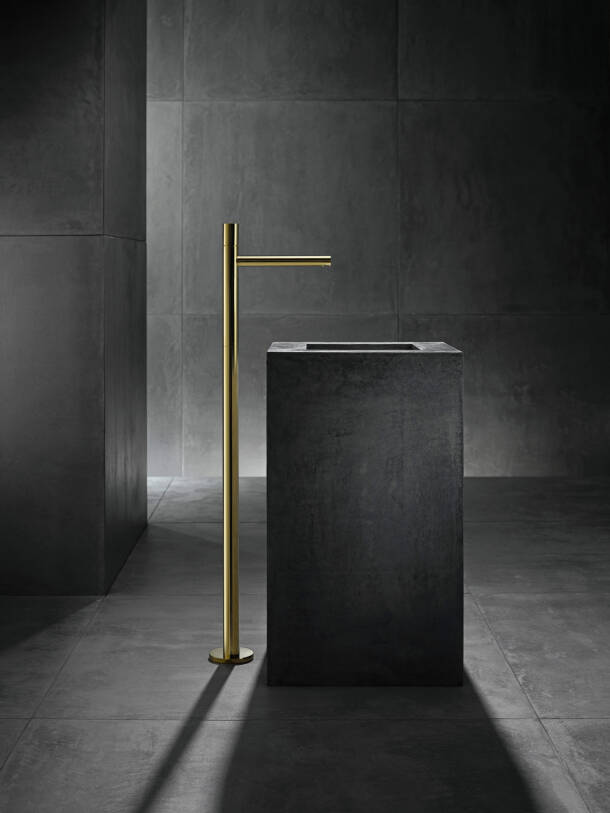 You've been showering with Phoenix Design for quite some time. Hansgrohe and the Stuttgart design studio have been working together for more than 30 years. What makes this partnership special? What do you appreciate about each other? 
AD: With Hansgrohe, we have a partner at our side with enterprising thinking and who makes many things possible. Hansgrohe went on a journey with us where we were and are always in close contact. This closeness, but also trust, freedom, and commitment are our formulas for success.
JH: In the collaboration with Phoenix Design, the creation of a project isn't marked by a briefing. It's more of a shared journey of discovery that makes us strong, in which we do a lot of "kneading" and question things. That doesn't mean doing whatever we feel like. Curiosity and critical reflection on the part of all those involved drive us forward.
AD: We work almost like an in-house design department. Only in this way can we go into the depth and breadth we desire. At the same time, we see ourselves as a satellite that constantly brings new impulses into the company and challenges Hansgrohe by working together with other customers and dealing with a wide range of topics. This is how we at Phoenix define the role of the designer.
A recipe for success, as the very extensive list of design awards proves. Is there a design award you're particularly happy about?
JH: I immediately have to think back to my early years at Hansgrohe. With the new generation of showers of 1999, Hansgrohe had launched new and larger shower models with even more spray modes and functions, but that no longer worked. And suddenly, right when I started working for the company in 2001, something happened in the market. This type of shower was suddenly everywhere, even in discount stores, made in China, at unbelievably low prices. Then in 2003 we introduced Raindance, whose proportions worked exactly the other way around than conventional showers: Raindance looked like a table tennis paddle with a large plate and a short handle – a design innovation that came about together with Phoenix Design, and for which we received an iF DESIGN AWARD in 2004. It was the epitome of the new pleasure of showering with overhead showers, which became the trend.
And for you, Mr. Diefenbach?
AD: In the third edition of AXOR Uno, we took minimalism to the extreme and showed that the Uno message still works. The iF Gold Award was already something special for me. Also because I was responsible for the previous two product lines from Tom Schönherr and Andreas Haug, and it was one of my first projects with Klaus Grohe personally.
Solutions for the bathroom of today – and tomorrow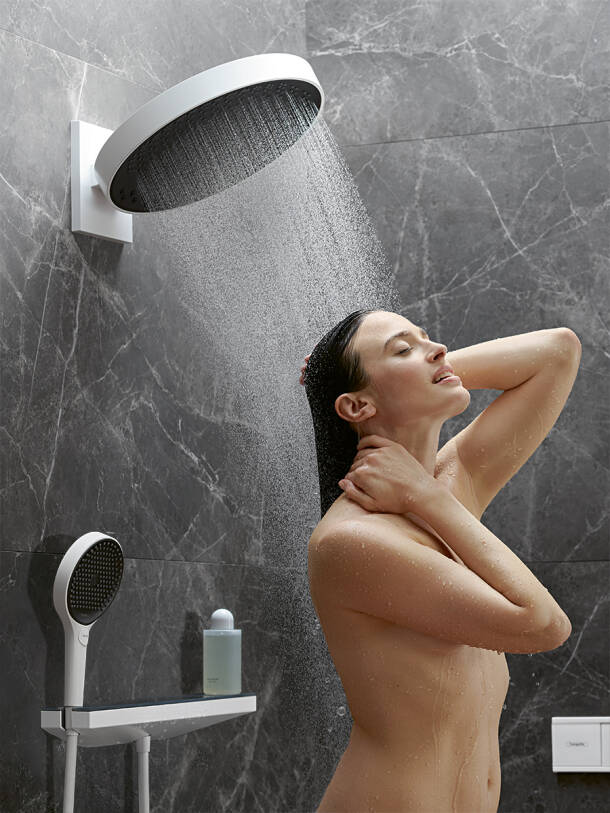 Let's take a look into the future... First into the bathroom itself: When it comes to housing, there is increasing talk of digitalization, cyberspace, and virtual reality. In the bathroom, this could be relaxing at the virtual tropical beach. Is this a development that will move into the bathroom? 
JH: The breakthrough from analog to digital access to the world began already 20 or 30 years ago, also in the bathroom. Today, digitalization is still searching for interpretation – and we are looking for a logical path with AXOR and hansgrohe. From a manufacturer's point of view, we are by no means closed off to digital control of functions, with smartphones for instance. Philippe Grohe was already thinking over a so-called "digital window" in the bathroom with AXOR design partners ten years ago. And if structural conditions don't allow it to be planned in a "real window," then a window into the outdoors created by means of VR is definitely an additional comfort.
A virtual reality – a virtual window – for small bathrooms or for bathrooms in major cities? That sounds like it's still far off. In your opinion, what concrete solutions already exist today for small to very small bathrooms?
AD: The smaller the rooms, the more atmosphere they need and the larger they have to appear. Resolution and integration are the central topics here. Many individual products are integrated, i.e. combined, into one product. The hansgrohe ShowerTablet is a good example. You need a thermostat – and it also serves as a storage surface for toiletries shower gel or a loofah. The sanitation sector as a whole is developing in the direction of furniture, always with the customer's sense of well-being in mind.
JH: Small baths aren't actually going to get bigger, they have to be optimized and rethought. Questioning the bath tub is one such reframing. An ideal solution for small rooms needs ideas and expertise. If we look to Asia, there is a water space in the bathroom with a central floor drain. For us, this bathroom variant means that the water has to concentrate on the body in the shower, as otherwise it splashes all over everything. With the new Raindance Select S shower and the new PowderRain spray mode, we have found a great solution thanks to fine microdroplets for this – and for all bathrooms with a central shower.
AXOR MyEdition innovation by Phoenix Design: Focus on the customer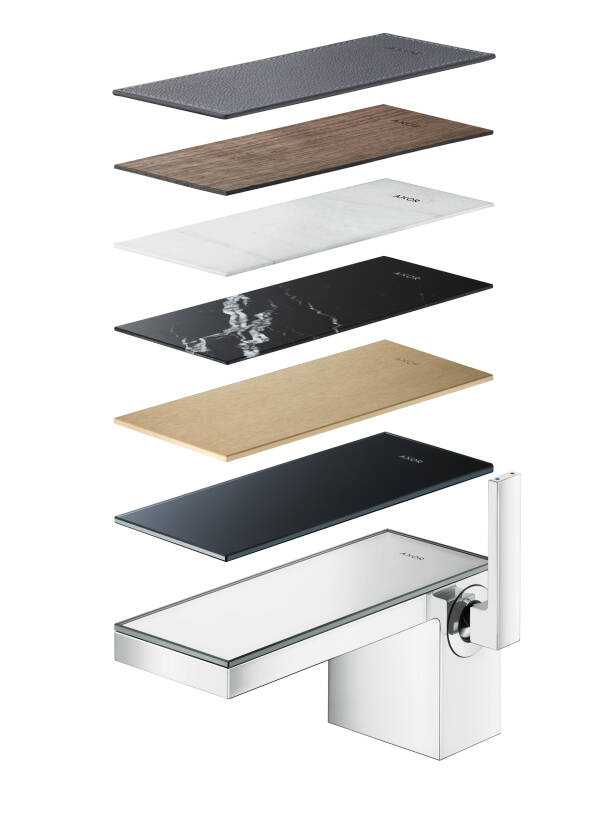 Another major topic of the future, for which the AXOR brand has already stood since its founding in the nineties, is the field of customization. The brand has always relied on the "personal bathroom," and offers collections ranging from classic to modern. With the AXOR MyEdition collection by Phoenix Design, the topic of customization takes on a new dimension. Faucets can be fitted with metal, wood, marble, or leather panels. The brand also offers fifteen brilliant AXOR FinishPlus surfaces. How decisive are your customers with this kind of selection?
AD: First and foremost, AXOR MyEdition is aimed at architects, interior designers, and project planners who, thanks to the wide range of applications, are in a position to advise their customers in a targeted manner and offer them a choice of overall concepts and different styles. This isn't just true for the new collection, but also for many hansgrohe products. The balance in the collection is very important – too many options just for the sake of options is not going to be productive.
JH: The topic of customization plays a major role but must be well thought out, because a bathroom is always a major customization project. The "pain point" at which the customer is overwhelmed is quickly reached without a competent partner, as it is often necessary to design the smallest but most complex space. The real question has to be "How do you live?" so that the things you address, such as digitalization or versatile accessories, are perfectly coordinated and tailored to the customer. In order to stay with AXOR MyEdition and AXOR FinishPlus, this can be conveyed by an interior designer, for example. This type of consulting is still niche in Europe, but has long since been standard in Asia and the US.
Not just designers anymore: Strategic partners along the entire line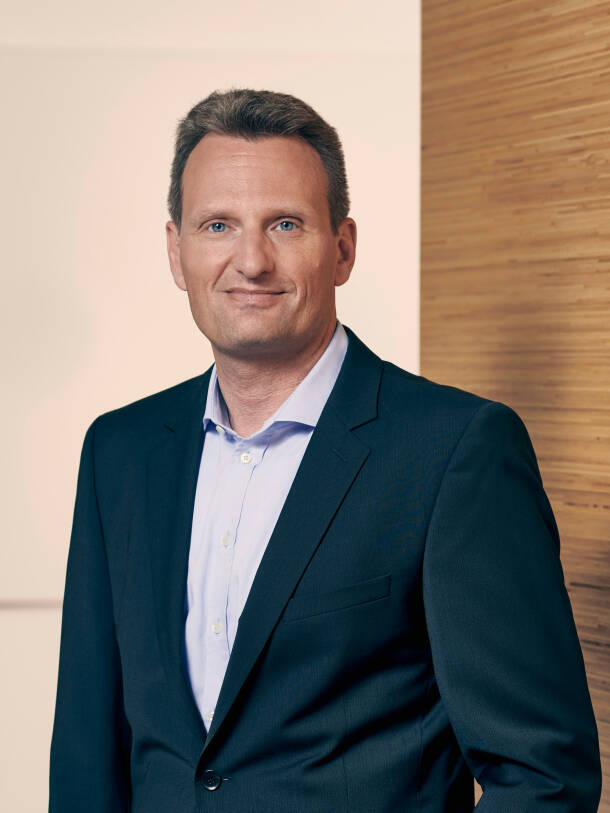 How does your future together look?
AD: In the future we will definitely talk about a shift in the role of design. Diversity, mutilfacetedness, and interdisciplinary teams are valid keywords for successful, long-term cooperation. The designer has long been a generalist who has to deal with complex topics. They're in demand in several fields. We're also meeting this challenge with our location in Asia and contributing our experience to our cooperation.
JH: The designer has been with us from the very beginning, and knows the company and the markets. With Hansgrohe, it has always been the case that the designer does not simply make the product "beautiful," but thinks globally, in strategic processes and approaches. Then we're very close to our core competence and to what we call customer insight. So we can move forward together – and become even better.