Value-oriented, transparent, responsible
Managing Hansgrohe Sustainably
Managing a company sustainably is the basis for long-term success. The Executive Board and all managers at Hansgrohe act accordingly. They are guided by deeply rooted values, they create transparency, act strictly in accordance with compliance guidelines, and they assume responsibility – for people and the environment. The sustainability strategy of the Hansgrohe Group builds on this foundation. Concretely defined goals and projects make us a future-oriented company.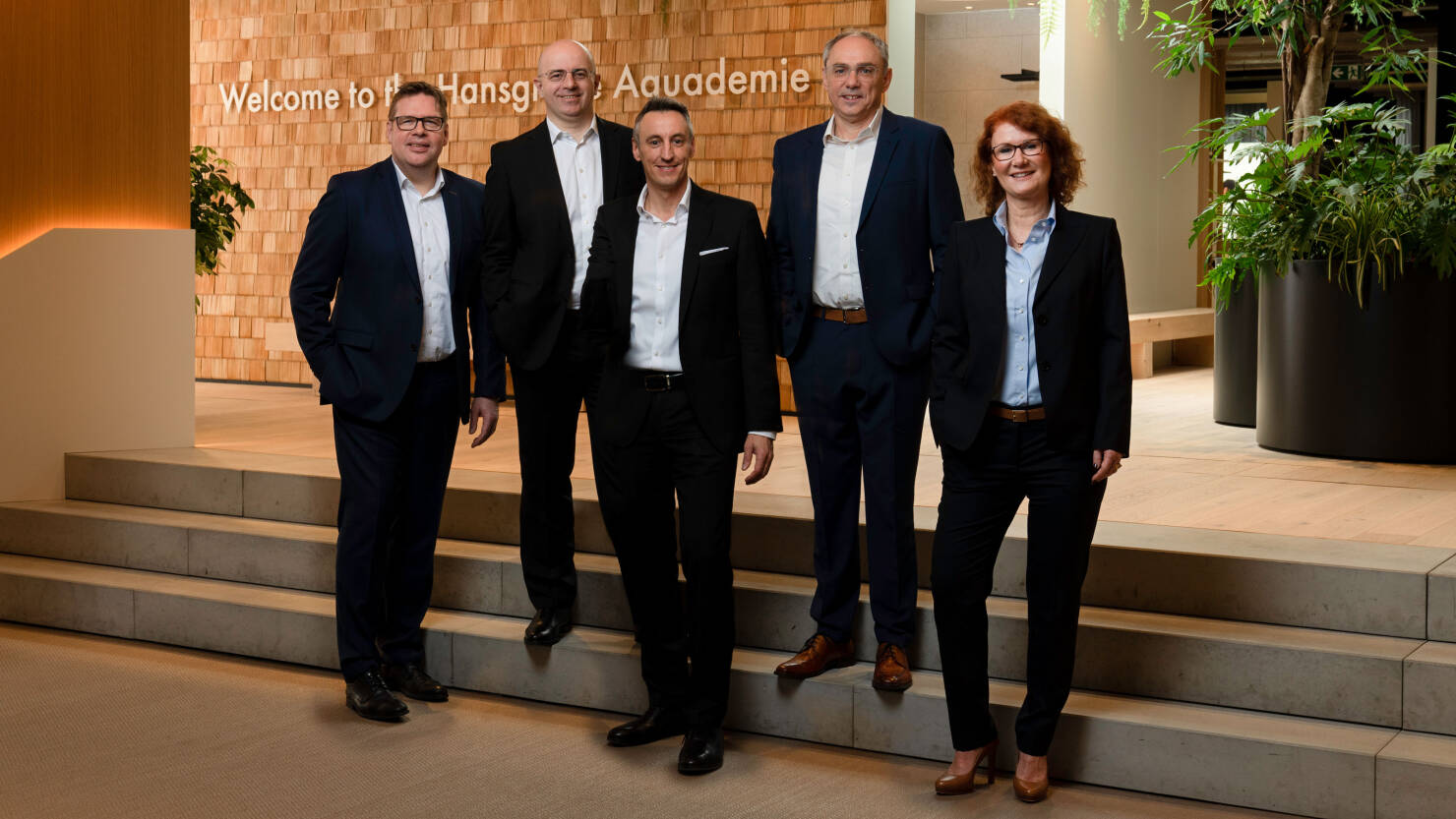 Basis of all Actions: Our Corporate Values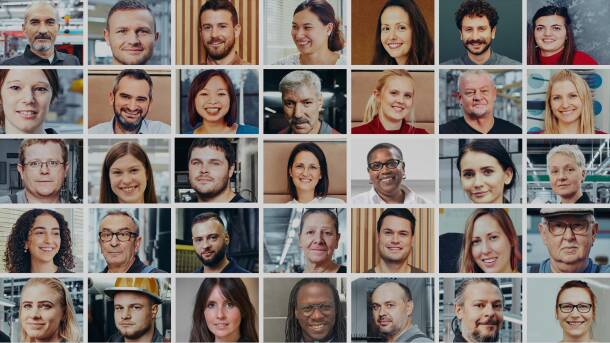 The values – passion, trust, teamwork, appreciation – are the basis of our thinking and actions at Hansgrohe. The corporate management is also guided by them. Across all management levels and departments, it is these values that guide us.
Our teamwork is based on trust and appreciation. We treat each other with respect and give each other fair, constructive feedback. We keep our word, share decisions and, where there is room for maneuver, act on our own responsibility.
In a company where all employees trust and appreciate each other, a good work enviroment can develop. At Hansgrohe, we see ourselves as a team. Each individual team member contributes his or her share to the company's success. We support and motivate each other – and are proud of what we have achieved together.
Team Hansgrohe Shapes the Present and the Future Together
An appreciative environment leaves room for the creativity and passion necessary to pursue our jobs. We perform our tasks with motivation, create new products and find solutions to challenges we face. In this way, we shape the present and future of our company together – for sustainable, steady growth.
Leading with Responsibility – a Constant Demand at the Top
Our four corporate values guide our work. Another central component of our business activities is transparency: At Hansgrohe, we always make important corporate decisions based on clear facts. In doing so, we keep the entire company and all affected parties top of mind.
We take strict care to ensure that we always comply with legal rules and other requirements and, where possible, exceed them. Our goal: to ensure full compliance. We also expect our employees, suppliers and visitors to comply with all rules and regulations.
For us, sustainable company management includes not only value orientation and full compliance, but also assuming responsibility for people and the environment.
We Take Responsiblity for the People
We take responsibility for our employees by creating a safe work environment. An environment that motivates, inspires and promotes them.
Our employees are at the center of everything we do. However, we are also committed to the people that surround us. As a company, we see ourselves as part of society. So it goes without saying that we are committed to living together in peace. A coexistence based on solidarity, tolerance and diversity.
Hansgrohe makes a strong commitment to its workforce and society.
We Take Responsiblity for the Environment
We humans are a part of "the big picture". We bear responsibility for what surrounds us. Environmental protection is therefore a top priority at Hansgrohe. This is the only way we can ensure a sustainable future worth living in. One element is of particular importance at Hansgrohe: water.
Even the company's founder Hans Grohe and his descendants had a great passion for water as a precious resource worth protecting. To this day, this appreciation forms the basis for all important decisions at the top of the company. Our commitment to
is a logical consequence and a matter of the heart.
Further information
Find here the most important guidelines of our company policy and a list of our trade association and industry organization memberships.
On Behalf of the Planet: Sustainability Strategy of the Hansgrohe Group
We take responsibility for people and the environment. This demand on ourselves, on our thoughts and actions, is deeply anchored in the Hansgrohe Group. The foundation for this was laid by Klaus Grohe, son of the company founder Hans Grohe. As early as the 1980s – long before "sustainability" was on everyone's minds – Klaus Grohe made sustainable company management a maxim.
Tirelessly Committed to a Sustainable Future
Since 1987, we have been stringently pursuing the path towards green transformation. In 1987, Klaus Grohe launched the Mistral Eco, a hand-held shower that ensured 50 percent water savings. Since then, we have been achieving milestone after milestone: with water- and energy-saving products that simultaneously help reduce CO2 emissions.
The goal of our sustainability strategy is to conserve, within our sphere of influence, all the resources that are becoming increasingly scarce on earth or whose consumption is fueling global warming. We are pursuing the 1.5 degree target of the Paris Climate Agreement. Our actions are aligned with the well-being of the planet. This is also expressed in our mission statement: IN TOUCH WITH OUR PLANET.
And because the world is constantly changing, we are relentlessly taking on every new challenge that climate change brings.
Concrete and Targeted: Ten Initiatives for Sustainable Business Operations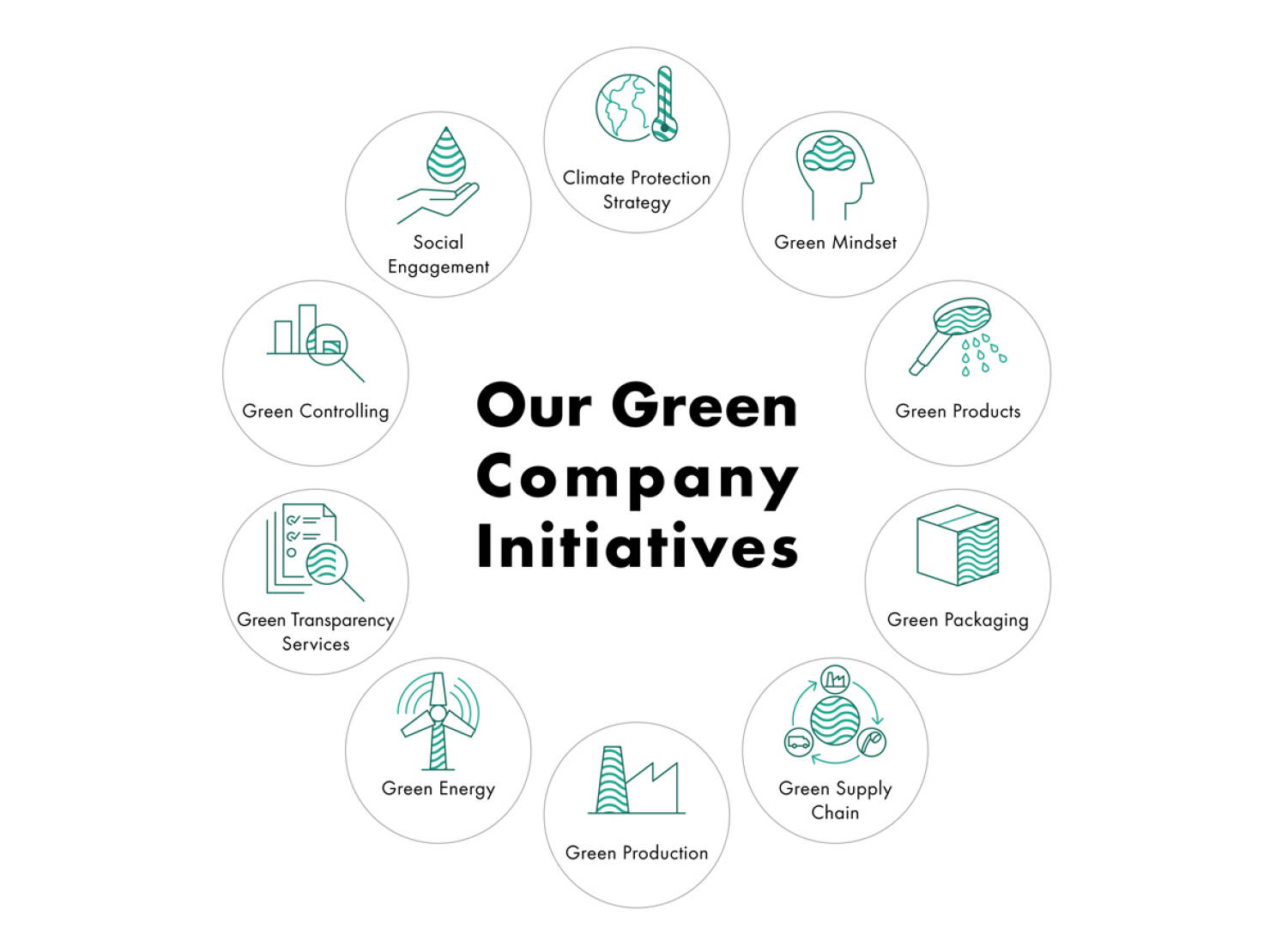 Strategies are nothing without the measures that follow. Our commitment to sustainability is made concrete within the following fields of action:
A team of sustainability experts from the Hansgrohe Group has defined ten initiatives with concrete objectives and projects that contribute to the three fields of action mentioned above. These include the initiatives
green production,
green packaging,
green products and
our social commitment.
We regularly publish news about the various initiatives on the "News and Events" page.