10/22/2020
|
Projects
|
AXOR
Hybrid Spaces for Hospitality and a Michelin-Starred Culinary Delight Shake Up Copenhagen
The Audo and Alchemist Select AXOR as a Partner for Sanitary Fittings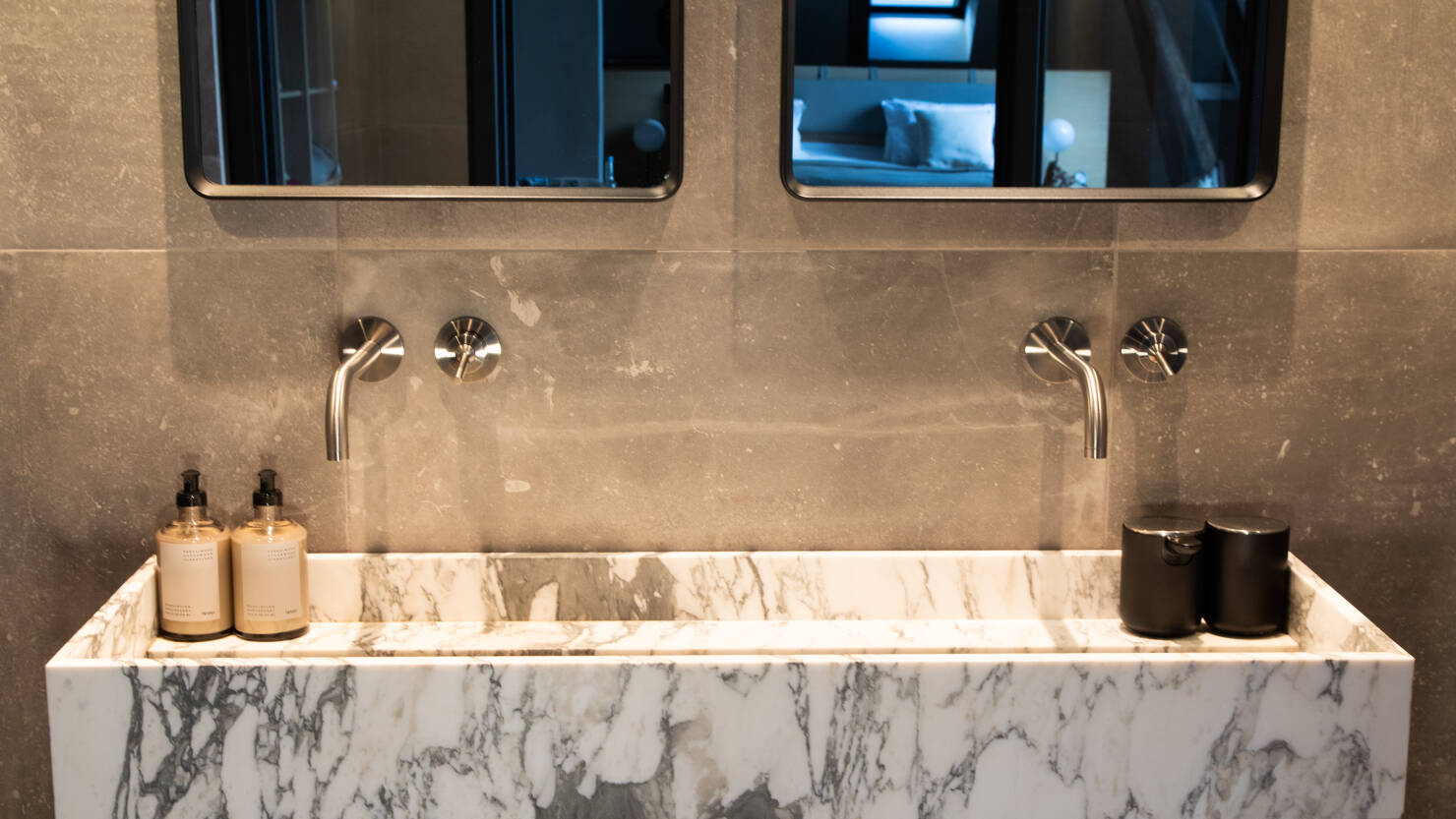 Schiltach, October 2020. In Nordhavn, Copenhagen's old industrial harbor, a neo-baroque building from the early 20th Century has been given new life. The Audo, as it is now known, celebrates and facilitates human connection in the global digital age. Bjarne Hansen, founder of Danish design company MENU, and Jonas Bjerre-Poulsen, co-founder of the Norm Architects, conceived The Audo as a hybrid space, a platform for bringing local and international creatives together over a drink, a meal, a project or simply a shared aesthetic experience.

The Audo platform encompasses a restaurant, a cafe, co-working and event spaces, a concept store and more. But international visitors will most appreciate it as a one-of-a-kind hotel, each of its ten rooms individually designed in the warm, "soft minimalism" style for which Norm Architects is renowned. The subtle, sophisticated aesthetic continues in the bathrooms, where Norm have selected AXOR Uno faucets. One bathtub even features a customized AXOR Signature application by which a floor-standing AXOR Uno bath spout was converted into a perfectly sized rim-mounted bath spout. In all cases, Norm have taken full advantage of the AXOR FinishPlus range of surfaces. Through choice of material and palette, each hotel room evokes a different mood, a different landscape. AXOR Uno harmonizes with all of them, whether in Brushed Black Chrome for a 'lunar' ambience or in Brushed Bronze for a 'deep forest' atmosphere. Other finishes include Brushed Brass and Stainless Steel Optic. In addition to AXOR Uno, the rooms are equipped with AXOR Showers, such as the 350-overhead shower, which offers the cocooning PowderRain spray type. The penthouse rooms feature the lavish AXOR ShowerHeaven. Downstairs, the kitchen boasts AXOR Citterio kitchen faucets in the eye-catching semi-pro variant.

"Danish architects tend to use the same local brand, and I thought it would be interesting to try something different," explains Hansen their decision for AXOR. "It was very much a collaboration," adds Bjerre-Poulsen, "and we were delighted by all of the wonderful finishes AXOR had to offer. We wanted a different material and color palette for each floor and each room. I think AXOR got the finishes just right in terms of tonality and surface, which is a really hard thing to do."

By blurring the boundaries between work, store, home and hospitality, The Audo fosters a new kind of creative exchange, of which AXOR is very much a part. The approach is nicely summed up by the Latin expression from which The Audo derives its name: Ab Uno Disce Omnes. From one, learn all.

Alchemist: A New World of Culinary Delight

A night at Alchemist is unlikely to be forgotten. Since opening in 2019, the Copenhagen restaurant has collected two Michelin stars for its highly creative, technically complex dishes and choreographed dining experience. Chef and co-owner Rasmus Munk worked with Studio Duncalf to reimagine the space—a former set-building workshop of the Royal Danish Theatre—employing live actors and visual technology in service of Munk's self-styled, 'Holistic Cuisine'. Alchemist leads its guests on a journey—through neon halls, past graffiti-sprayed wall and a towering 13-meter wine cellar—of all the senses. Spread across 5 acts, the 50-course menu is delivered by a team of animators, a dramaturge, and 32 chefs. If the journey leads into the bathrooms or kitchen, guests will discover not one, but three AXOR collections.

Alchemist selected AXOR Starck Organic, AXOR MyEdition and AXOR Citterio, requesting exclusive individualization services from AXOR FinishPlus. Hands-free at the washbasin, the AXOR Starck Organic electronic faucets feature infrared sensors for ultra-precise operation and economical water consumption. The ultimate in personalization, the AXOR MyEdition washbasin faucets are equipped with PowderRain technology that envelops the skin in a cocoon of water. And AXOR Citterio, an icon of modern bathroom design, makes a monumental impression at the washbasin with its geometric forms and strikingly flat surfaces. At Alchemist, each collection is finished in Brushed Black Chrome, one of up to 15 exclusive AXOR FinishPlus surfaces.

"What keeps me going as a chef is the possibility to influence people—my ultimate goal is to change the world through gastronomy," says Munk. "At Alchemist, we have the opportunity to transport our guests out of their ordinary world and into a dimension outside time and space." With a 7,000-person waitlist, Munk has already found a willing audience for his vision. Commenting on a range of pressing issues, both political and environmental, the menu is at once luxurious and self-aware, delicious and thought-provoking. Named Best Restaurant in Denmark by White Guide, Alchemist has successfully carved a space for itself at the intersection of art, cuisine and technology, and those dining here will emerge with plenty to savor and contemplate.

About AXOR

​​​​​​​AXOR develops, constructs and produces taps, showerheads and accessories for luxurious bathrooms and kitchens to perfection. At the highest aesthetic and technological levels, avantgarde, one-of-a-kind pieces and collections are created. Some of them are considered classics of bathroom design to this day. Collectively they embody the claim "Form Follows Perfection": not ending the developmental process until nothing more can be added or removed. Pace-setting design objects have been developed with this recipe for more than 25 years with world-renowned designers, among them Philippe Starck, Antonio Citterio, Jean-Marie Massaud and Patricia Urquiola. AXOR is a brand of the Hansgrohe Group.
Contact

Astrid Bachmann
Deputy Lead Corporate Communications, Global PR AXOR