Talking to Markus Armbruster
Digital Living at Hansgrohe – from Person to Person
Markus Armbruster is a source of fantastic words: you're likely to hear terms like ambidexterity, scrum, chatbot, and shy tech. As Vice President of IT & Digital, he's well versed in the vocabulary of the future and translates it for Hansgrohe. His team plunges into the depths of digital waters on a daily basis, fishing out the best, most sustainable and future-proof solutions for the company.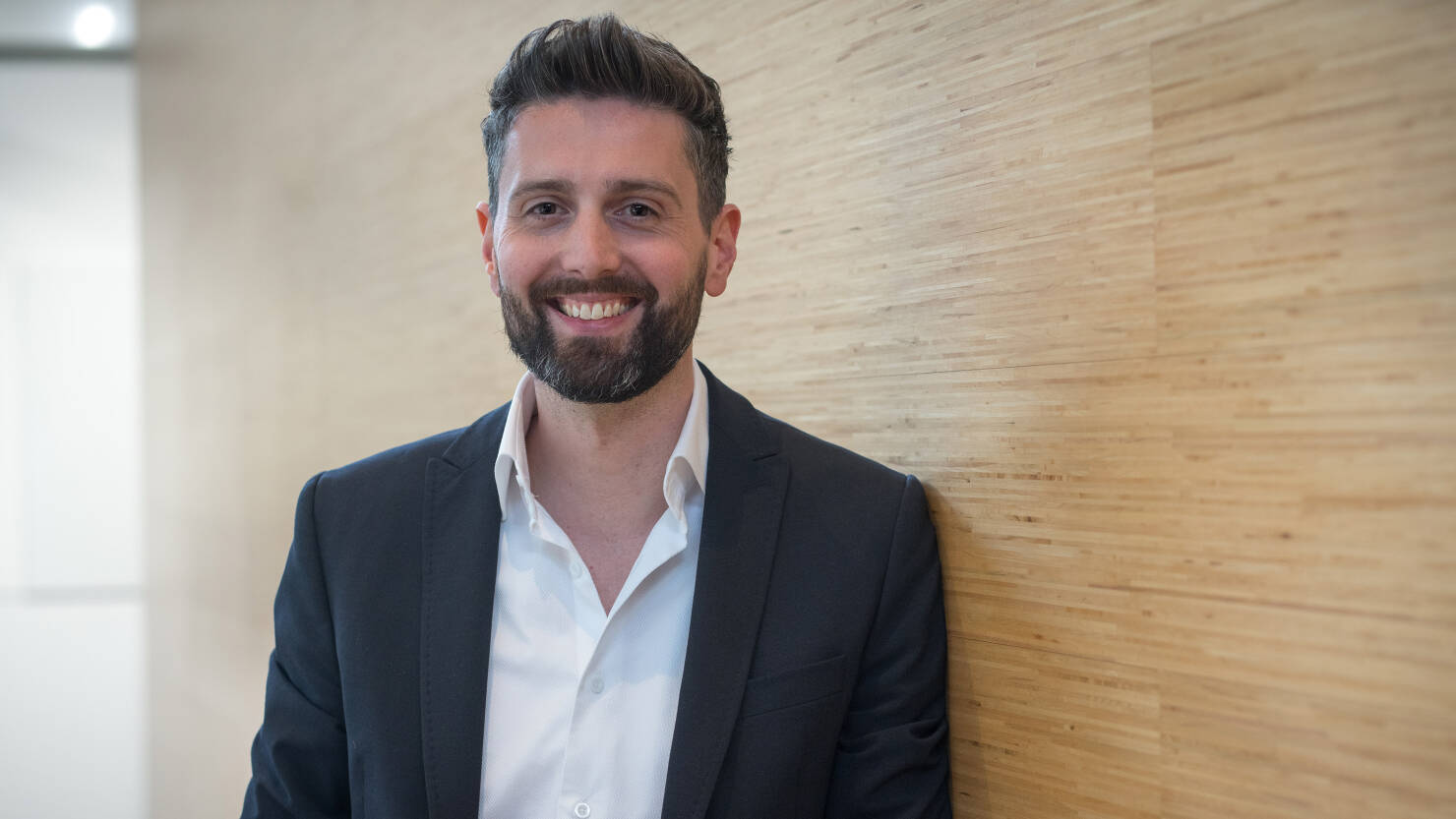 Digitization at Hansgrohe: long-standing company with start-up mentality
"When I started at Hansgrohe during my
 integrated work/study degree program
 in 2003, I thought I'd be a programmer my whole life," says Markus Armbruster, who studied business informatics. But that's not what happened. In addition to working on projects connecting Hansgrohe with suppliers and architects, the Swabian technophile has also optimized processes via digital platforms and implemented mobile websites. That's because the faucet and shower specialist found itself in the middle of an upheaval that would eventually be referred to as the
 "digital transformation."
E-commerce channels were then developed, a groundbreaking change for the established company with its traditional distribution channel. And that proved to be a good decision: this restructuring resulted in an enormous surge in growth. Armbruster's career, which spans 20 years, demonstrates just how fast the digital world is turning – even in the comparably conservative sanitation industry.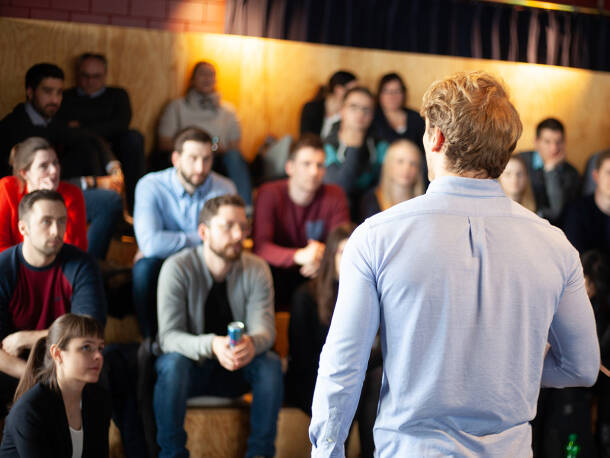 "Transformers" for a progressive mindset and cultural change
Markus Armbruster is now a power broker at a company that is consistently working towards a connected future. The sophisticated digital strategy already extends into the thinking and behavior of every specialized department. 
And it's not only an issue of technology, but also of culture. 
Employees are preparing for the work of tomorrow at the internal 
Campus 
digital faculty. Around 30 talents were trained as "digital transformers". They pass on their future knowledge to their colleagues in all divisions. In this way, employees get to know the new digital possibilities and approaches – and use them to create value for the company. The Hansgrohe Group is in the process of breaking up traditional department structures and increasingly working in fast, agile teams. The company desires and promotes a culture based on trust in which each individual is allowed to think in an 
unconventional, bold, and interdisciplinary
 way.
​​​​​​​
To make the future digital, the Hansgrohe Group is also streamlining its value chain processes, which makes
production
and
logistics
more efficient. Across all
marketing and distribution channels
, specialists are working on the digital brand presence, optimizing the customer experience, and turning it into an intuitive experience for all customers and target groups. These employees also have the right to be curious, experiment, and develop on a high level. Fail fast has become an aspect of the company culture and means that an idea or innovation needs to be thrown out as soon as possible if it's not the optimal fit after all.
New ways of working accelerate digital transformation at Hansgrohe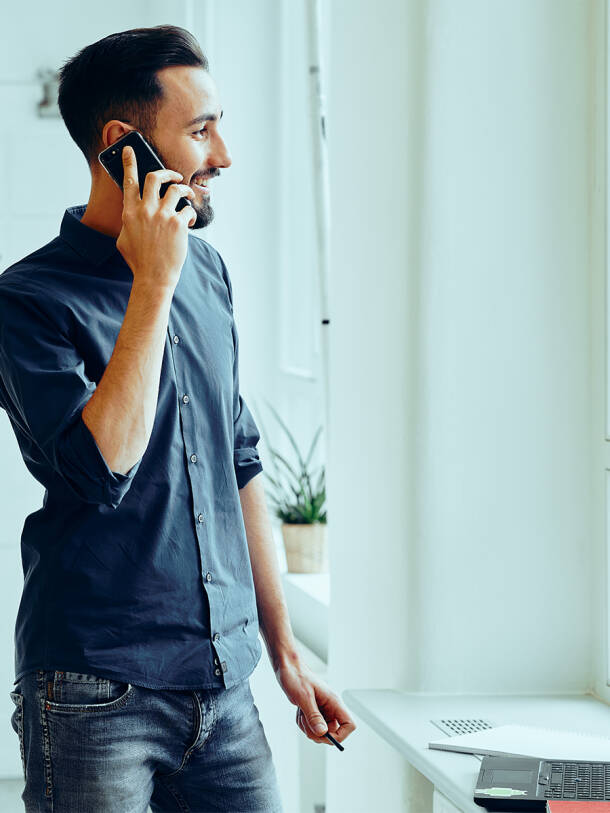 The here and now is digital in many areas – and even more so when unexpected events like the Corona pandemic make this necessary. Fast, and at the same time planned, action is required in such exceptional situations. Important measures for companies have been (and still are) to enable employees to
work from home
 and to
collaborate virtually
:
The offer to work from home has existed for many years at Hansgrohe. During the peak phase of the shutdown, the company expanded this offer and, where practicable, made it possible to work from home almost everywhere. In Germany, around 900 colleagues have taken and are currently taking advantage of this option. Around 1,500 employees worldwide have been able to move their workplace into their own home.
Behind this is the performance of the Hansgrohe IT department: "We have
expanded the broadband and IT service
 for inquiries so that many colleagues can work at home at the same time. And by
using appropriate tools
, we were able to support virtual collaboration in all our subsidiaries worldwide," Markus Armbruster explains. Employees continue to use their "office at home" in coordination with their managers and according to personal needs.
Seeing good in challenging times
Exceptional situations such as the Corona pandemic are something everyone needs to get used to. In relation to Hansgrohe, this means that every department and every employee had to reorient themselves. Projects, working conditions but also goals changed. Questioning, thinking outside the box, being flexible and
finding the best solutions as a team
 are the virtues of the hour. Virtues that have long been internalized at Hansgrohe. After all, that's one of the many advantages of being almost 120:
the Black Forest think tank
has always been able to take on challenges courageously – and see them as opportunities.
"A
positive effect 
of the corona crisis is that the new working method additionally accelerates the digital transformation. For example,
meetings 
that used to involve a lot of travel expenses and where employees had to be physically present are now naturally held remotely. This makes us more efficient. Since some of the business trips are no longer necessary, employees also have more time for important tasks," Markus Armbruster points out.
The new way of working also makes the coordination among each other more efficient. Communication is the keyword. Markus Armbruster notes: "During the Corona period, we have seen that clear, regular and
transparent communication
 is more important than ever – also digitally."
"The digital transformation is mainly about the people – much less about the technology. The change begins in the mind and must be applied to the company as a whole. We promote a corporate culture that views digitization as an opportunity for us, not as a trend, and certainly not as a threat to jobs."

Frank Semling, Hansgrohe board member
Digital living in the bathroom and kitchen: smart products that pamper people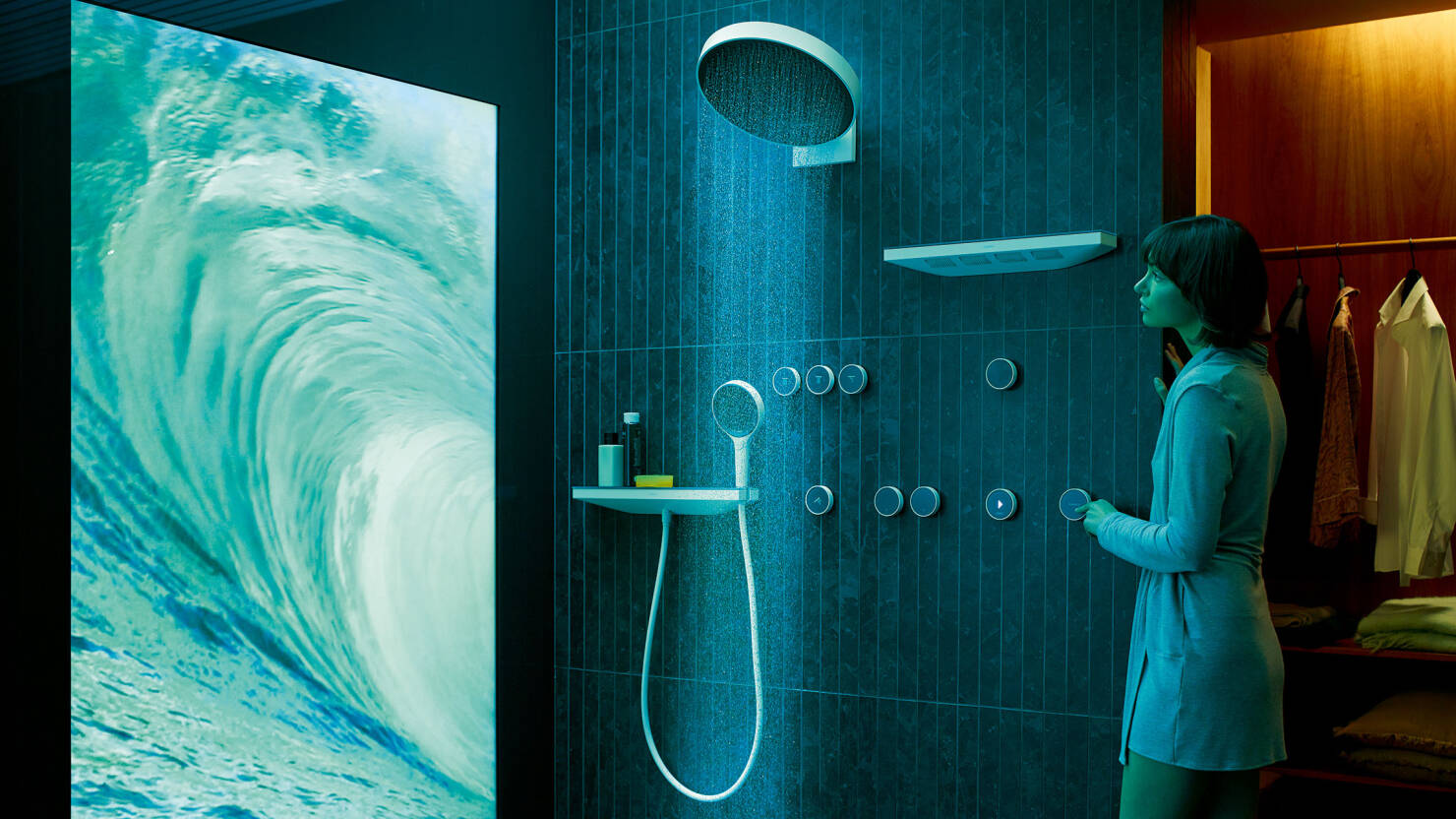 While the product-driven company clearly focuses on digital solutions, they're never an end in themselves. Short-winded technical knickknacks don't stand a chance with Hansgrohe and its quality brands in the bathroom and kitchen either. Not everything that claims to be "smart" on the market deserves the AXOR or hansgrohe label. Only those things
that make life and living more beautiful, emotional, and relaxing
 are ever developed. "
Smart Living
 focuses on people – not technology," says Markus Armbruster. Unobtrusively integrated behind the wall as shy tech, it yields to modern design and makes operation intuitive.
Anything but old school: Hansgrohe has always thought virtually
"Maintaining tradition, recognizing opportunities, and integrating innovation: that's an art in itself," says Markus Armbruster. What will play a more important role in the future? "
Sustainability
, sensible use of technologies such as the
Internet of Things (IoT)
, and
artificial intelligence (AI)
. As well as coordinating more closely with our customers around the world and collaborating more intensively with start-ups and other partners."
​​​​​​​If you want to know what the best product will be tomorrow and what will one day ensure customer satisfaction, jobs, and growth, it's worth taking a look at the past. During his time (beginning in 1901), 
founder Hans Grohe
 didn't get involved in every trend that came along either. The Hansgrohe Group owes its solid core business to his
ability to imagine a possible future
(= thinking virtually). This business primarily consists of "analog" faucets and showers – a reliable foundation on which to effectively develop the digital aspect. Incidentally,
ambidexterity
is exactly this tightrope act: the balance between the power of innovation and stability.