Corporate Social Responsibility
Social Responsibility – Self-Evident for Hansgrohe
The commitment to assume social responsibility has always been firmly rooted in the Hansgrohe company culture. We primarily support projects that protect water as a precious resource – in the Black Forest, where it surrounds us, as well as at our locations and far beyond. In addition to nonprofit initiatives dedicated to protecting nature, we also support social and sports projects.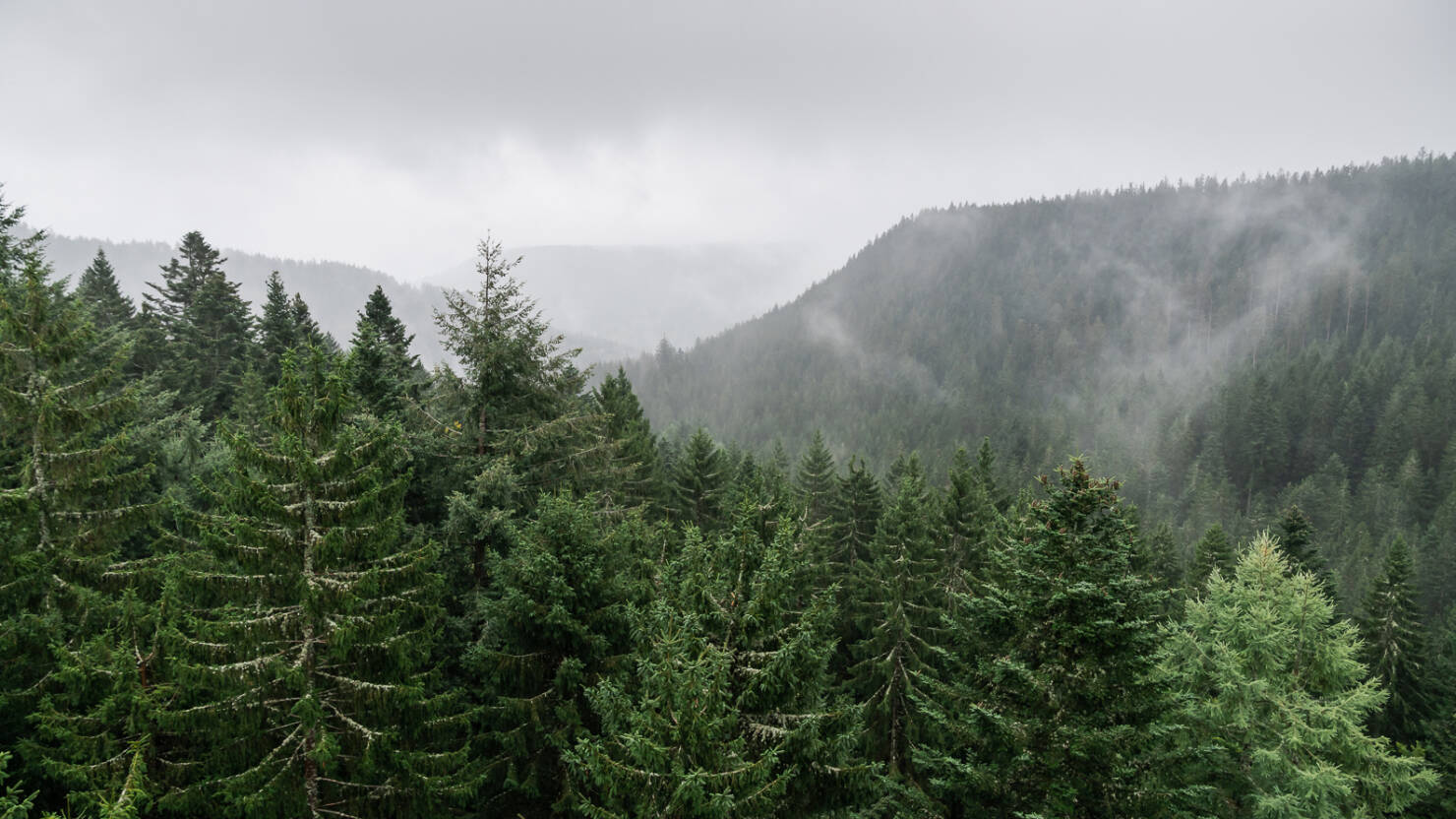 Black Forest National Park – Our Precious Home Region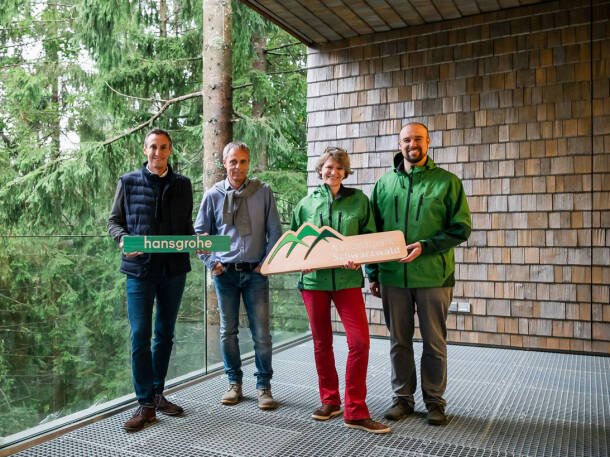 The
Hansgrohe company
 is deeply rooted in the rolling hills of the Black Forest, which is a valuable water reservoir for the region and of high national importance in terms of climate, tourism, and business.
In 2014, parts of the northern Black Forest were designated a
national park
, with the primary goal of "allowing nature to be nature." Species and biotope protection is a top priority, as is the high value of free time and recreational activities. A visitor center has just opened in the nature reserve and provides important information and educational opportunities with a focus on the environment, wildlife, and biodiversity.
We bring water to life – and protect our environment.
The Hansgrohe Group has been an official partner of the Black Forest National Park since 2021. Because we've long promoted
environmental protection and sustainability
 at our production facilities, we're more than happy to assume responsibility for this important landscape project too.
"This decade, our Green Company goals are centered around the climate compatibility of locations and products. The German locations should be climate-neutral by the end of 2021, with the rest of the Hansgrohe locations around the world to follow in 2022. Climate-neutral refers to direct emissions and the energy consumed at our locations. Our goal is to make the entire company, including all of its products, climate-neutral by 2030."

Hans Jürgen Kalmbach, Chairman of the Executive Board, Hansgrohe SE
Cleandanube 22 – from the Black Forest to the Black Sea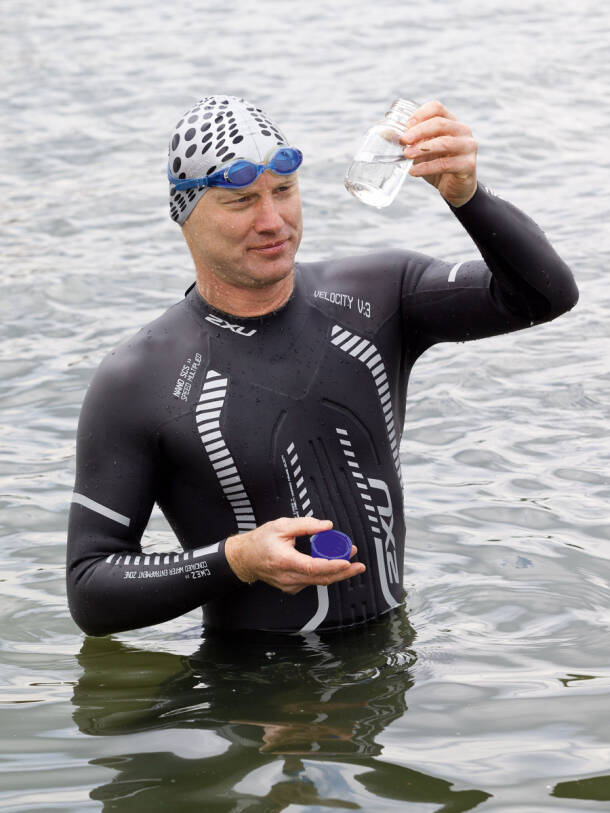 With spectacular swimming initiatives such as
Rheines Wasser
 (2014) and Tennesswim (2017), Hansgrohe water ambassador Andreas Fath has put a spotlight on his research work internationally, having swum the full length of the Rhine and Tennessee rivers, from the source to the mouth.
And now the crazy professor will be swimming the Danube.
For his
Cleandanube 22
initiative, Fath will be collecting water samples along the 2,800-kilometer river and analyzing them on a daily basis. From antibiotics to sweeteners, what does the Danube, which originates in the Black Forest and flows through ten countries, transport to the Black Sea? What can people do to reduce or eliminate harmful substances and microplastics? Just as he has done on his past river adventures, the environmental activist will again be focusing on the responsibility of each individual and of manufacturing companies.
We bring water to life – and analyze it.
Dialogue between science and society is an issue that's very near and dear to the researcher. "A clean Danube is important for Europe," says Andreas Fath. Sponsor Hansgrohe couldn't agree more and will again be accompanying its former head chemist on his
exciting swimming excursion
. We're delighted to be able to support this type of scientainment.
Salmon in the Kinzig River or: The Clean River Outside Our Front Door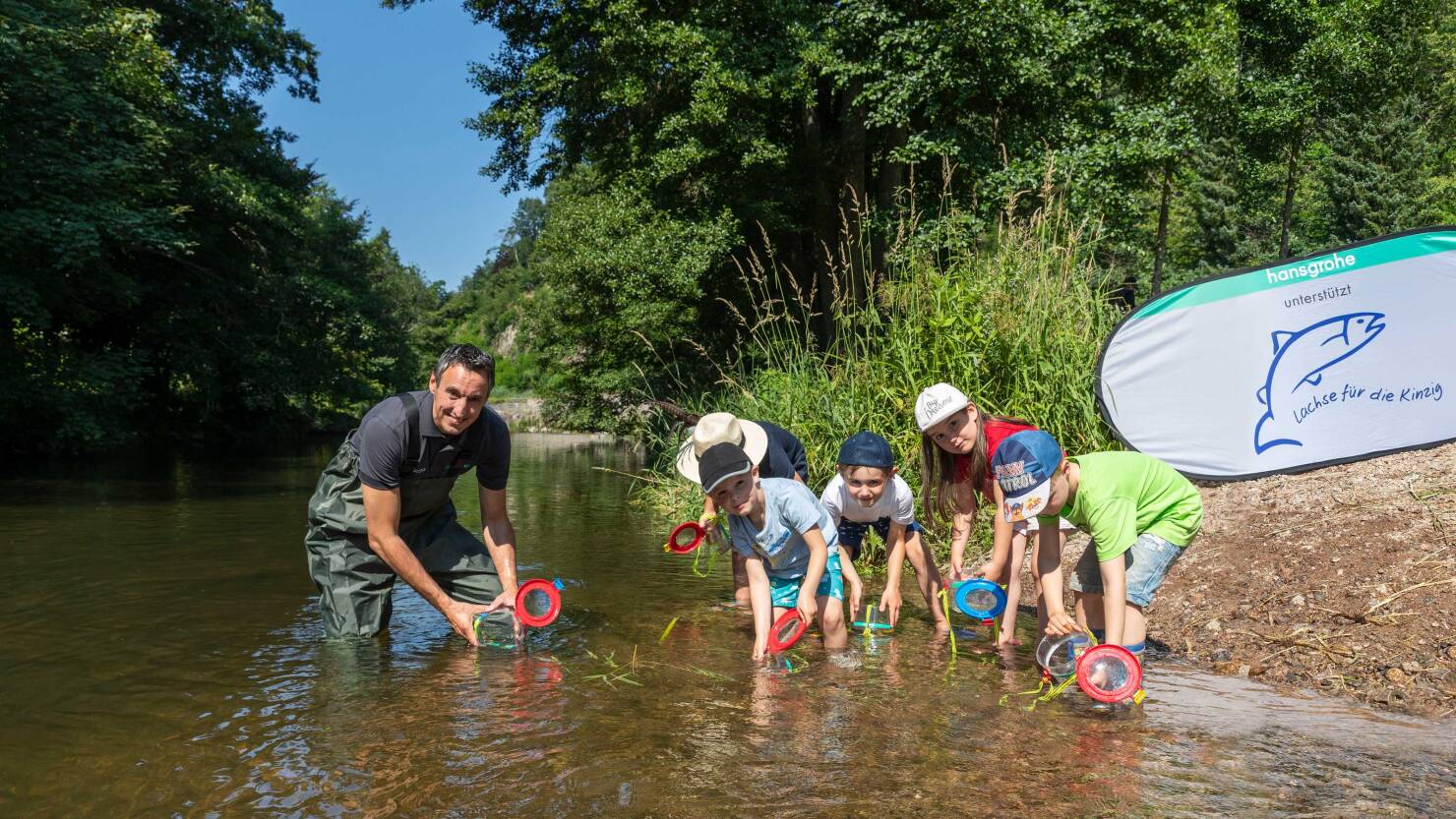 Our headquarters in Schiltach are nestled on the banks of the Kinzig river, which meanders past our plants and the
Hansgrohe Aquademie
 and flows in a northwesterly direction toward the Rhine, which ultimately empties into the North Sea. This is a route taken by more and more salmon, some of which swim all the way to Greenland. After all, the Kinzig is an excellent habitat for many of these fascinating migratory fish, and salmon need clean rivers.
We bring water to life – and give fish a helping hand.
​​​​​​​The Hansgrohe Group is committed to maintaining the ecosystem in its home region with projects such as the salmon stock campaign initiated by the
nonprofit organization Wanderfische Baden-Württemberg e.V.
, the aim of which is to promote repopulation of salmon in the Black Forest. And indeed,
the salmon are coming back
. Once they've made the river their permanent home and return in large numbers to spawn, the initiatives will have been successful over the long term. We at Hansgrohe will keep at it, as
sustainability
 is our strong suit.
How young professionals assume responsibility at Hansgrohe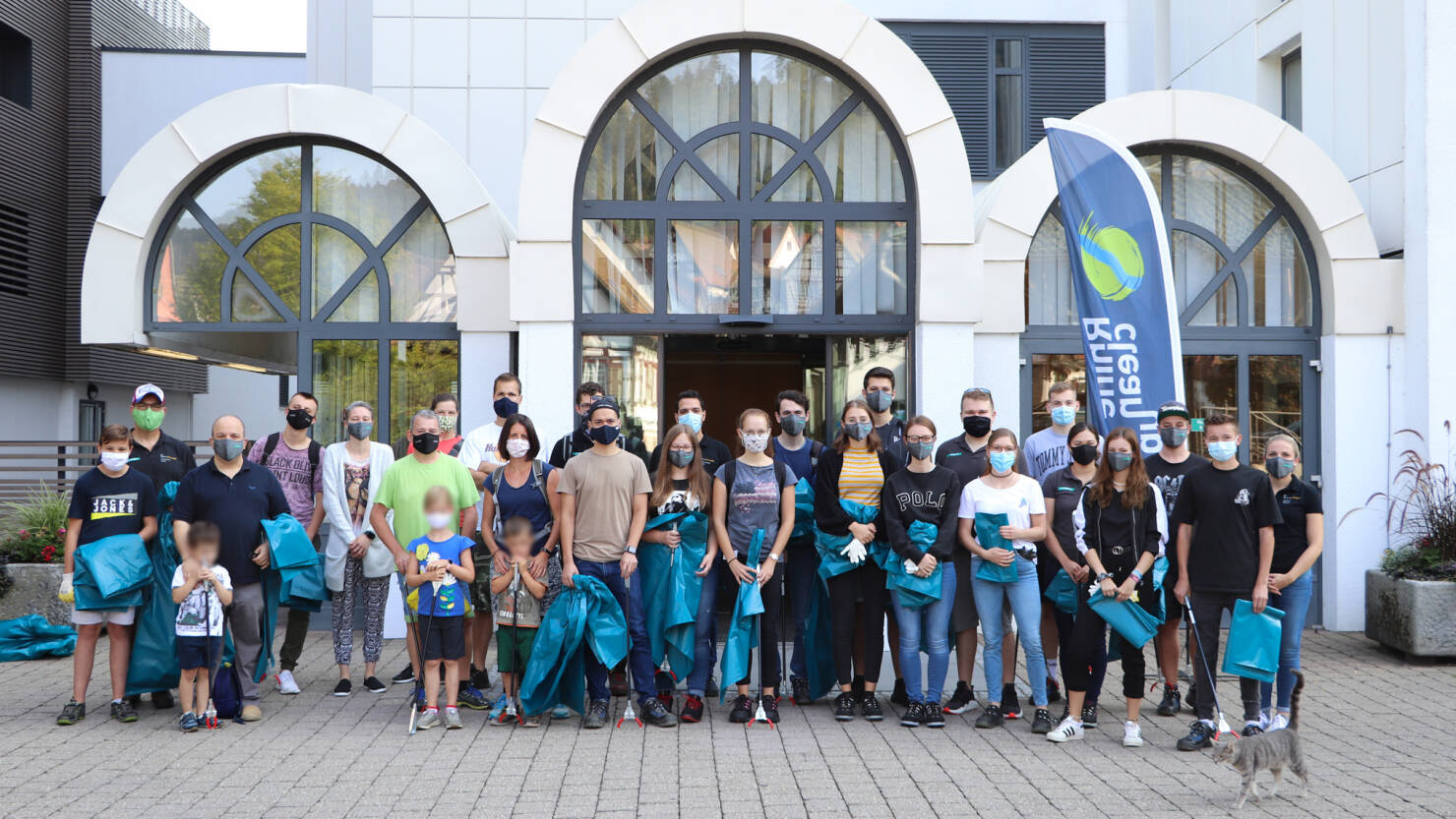 Helping is a tradition at Hansgrohe SE, even for young talented minds: every year, trainees and students of the integrated work/study program who complete their first few months here volunteer their services.
Whether day care, wheelchair excursions, or serving food
, they commit to volunteering for social projects and plan the activities themselves. The young employees are involved in:
​​​​​​​Recreational clubs for people with learning disabilities
Care centers for the elderly
Children's homes
Counseling facilities
Foundations for people with disabilities
Caritasverband Kinzigtal foundations
The young people always have something positive to say about the program, which goes to show just how important they consider public welfare to be, alongside their budding career. They also realize how urgently their support is needed.
We bring water to life – and raise awareness of its importance.
​​​​​​​ In 2020, Hansgrohe employees, including many young people, rolled up their pant legs and got busy cleaning the riverbank just outside the plant gates. It was time for a
KinzigCleanUp! 
Inspired by
RhineCleanUp
, they collected everything that didn't belong there. Hansgrohe is an official partner of RhineCleanUp and will organize the event again, this time on September 11, 2021.
We bring water to life – and are well aware of its benefits for people.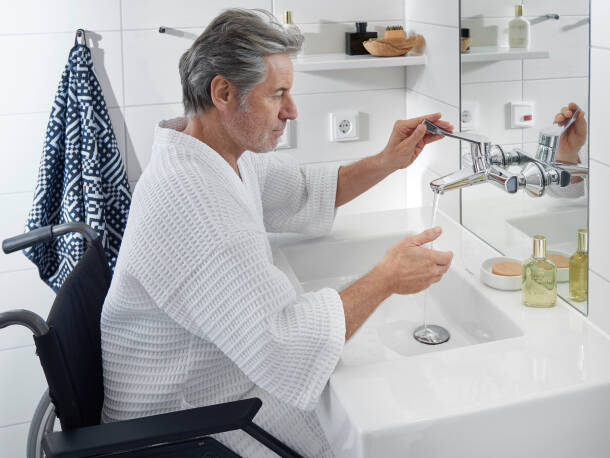 Located near the Hansgrohe headquarters, Palliativ-Zentrum Villingen-Schwenningen is a palliative center dedicated to improving the quality of life for critically ill patients in many areas. That's why we equipped the bathrooms with convenient hansgrohe products that are ideal for the special needs of the care units.

Promotion of popular sports, sports sponsorships, health management

​​​​​​​The Hansgrohe Group is committed to sports for different reasons: they benefit society and keep employees healthy and fit. At our locations, we therefore support popular sports, which can take the form of agreements with local sports clubs, and sponsor special sports events. We're interested in promoting the well-being of our employees over the long term with comprehensive Hansgrohe health management. And after sports? Just about every employee showers with hansgrohe wellness showers.